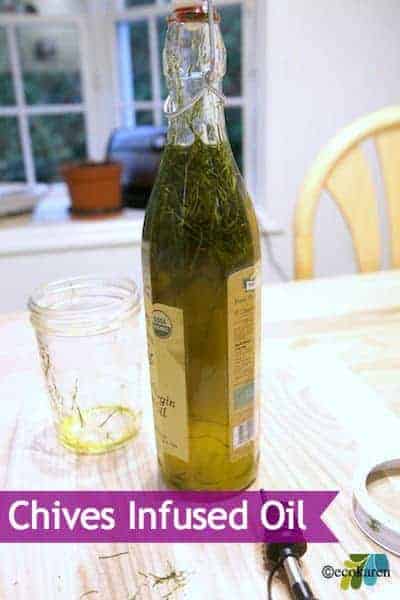 I finally cleaned up my herb garden this week and while I was able to air dry all the other herbs without sacrificing their lush green color, my chives didn't do very well. When I air dried them, they looked like straw. Not very appetizing looking are they?
So I turned to my fans on Facebook and asked what did I do wrong? And as usual, my fans rescued me and advised me on what to do to maintain the green color when drying.
The answer was DEHYDRATE! 
And what I decided to do with dehydrated chives is to make Chives Infused Oil.
WARNING: do NOT use fresh herbs to make infused oils is "extremely dangerous and sometimes deadly microorganism, Clostridium botulinum (C. bot), which can cause botulism. The fresh vegetables, herbs, and/or fruits used to flavor or infuse oils can be contaminated with C. bot spores. Fresh produce also contains water, which allows bacteria such as C. bot to live and grow. C. bot thrives in an oxygen-free environment like oil. This is why flavored and infused oils must be made and stored correctly to prevent botulism poisoning." Read more about it here.
How to Make Chives Infused Olive Oil
1. Wash a bunch of chives thoroughly in cold water with about 1 tablespoon of vinegar.... a bunch, meaning, enough to grab around them with a loosely closed fist.
2. Cut them up into about 1-2 inches and spread them out on parchment paper.
3. Dehydrated them in the oven at 150ºF for about 3 ~ 3.5 hours. Check them to make sure they don't burn, like some of mine did. While the color is still not the fresh lush green, it's still so much better than the tasteless straw color ones I had from using the air drying method.
And the smell of these dehydrated ones....oh my. I wish you can smell these delicious chives. It's more pungent than the fresh ones! The mellow roasted fragrance makes this chives infused oil amazing!
4. I had organic olive oil in a rubber-stop bottle so I decided to use that. Putting them in the small mouth bottle was hard so I poured some oil into a wide mouth mason jar with the chives first, then, using a funnel, I was able to pour the oil back into the bottle.
5. Wait about 2-3 weeks and you have Chives Infused Olive Oil! Perfect to dip crusty bread or as a gift for the holiday!