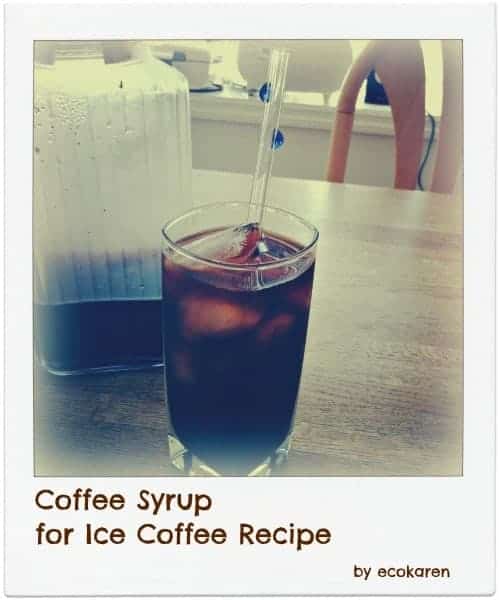 I don't know about you, but by 3 O'Clock, I'm in need of caffeine intervention these days.
Maybe it's the heat.
Maybe it's driving my kids to their destinations, come home, only to turn around to go back to pick them up again a few hours later.
I think summer driving zaps my energy even more than other seasons.
It's too hot to make another pot of coffee in the middle of the afternoon so I started making coffee syrup, and keeping a carafe in the fridge to make a quick tall glass of ice coffee - a perfect afternoon pick me up - just for me, when I need it.
I can't remember where I saw this cold coffee syrup recipe first but it is so easy peasy! And I don't know why I didn't make this when I was in college! It would have saved me many afternoon coffee runs to the student center, never mind, wads of money!
But like they say, it's better to be late than never. 🙂

Coffee Syrup for Ice Coffee Recipe
Recipe
Did you try this recipe? We would love your feedback!
Click on the stars on the recipe card below.
Cold Brew Coffee Syrup
If you're a coffee drinker, you will enjoy cold brew coffee. It is simple, inexpensive to make and you will love how it tastes!
Equipment
Glass carafe

Strainer with a fine mesh
Ingredients
1

lb.

of coarse ground coffee

3

C

of warm water

6

C

of cold water
Instructions
Scoop out 2 C of coffee ground into a tall pitcher with a lid.

Slowly add about 3 C of warm water.

With a tall spoon, wet the coffee ground without stirring.

Gently pour the rest of cold water into the carafe.

Cover with the lid and refrigerate overnight.

Do not shake or stir the coffee, otherwise, you'll end up with coffee powder in the syrup.

Next day, place a fine mesh cheese cloth in a sieve strainer.

Gently, pour the cold coffee over the cheese cloth to a 10 Cup carafe with a lid.

Store the carafe in the refrigerator and use syrup in 2 weeks, if it lasts that long!

If you really want strong coffee, you can use dark blends OR add more coffee ground to the recipe.

Use sweetener of your choice, add ice, milk, a reusable straw and enjoy!
Notes
Make coffee ice cubes using the syrup to add to your ice coffee so you don't dilute the coffee when using ice. I didn't do that since the syrup is strong enough for me.
This recipe yields about 8 -9 cups of syrup. You can modify the amounts if you want to make less. 
Disclosure
This recipe may contain links that pay commission to this site when you purchase from the links, at no extra cost to you. Full disclosure!