By now, you probably have cucumbers, zucchinis, peppers, and tomatoes coming out of your ears. So what do you do with all these yummylicious veggies?
As the saying goes, "Peter picked a peck of pickles...", pickle them, of course!
I, the kimchi  and sauerkraut queen, love all kinds of pickles. Half sours are my favorite, but I can eat any kinds of pickles with anything...except real mushy yellowish ones. Or nauseatingly sweet or really, REALLY sour ones. Can't stomach them.
So how do you pickle cukes so they turn out not too sour or sweet or soggy but crisp and crunchy? It is tricky to keep them crunchy after they've been pickled or canned. And there are a lot of 'secrets' out there, promising 'snap - 'em in half' crunchy cukes.
But trust me. I have the only secret you need to make crrrrunchy pickles. So follow these easy peasy steps and you will want to pickle everything. Maybe even socks.
How to pickle your summer harvest
You can slice cukes in any shape for form. Slice them horizontally for hamburgers or slice them thin, vertically for layering on sandwiches.
I pickle cauliflowers, radish, carrots, celeries, and peppers! I canned a few jars too so I can have them in the winter. The red color in the brine comes from the radish. Isn't it pretty?
Secret to crunchiness
Salt cucumbers and keep them COLD. Keep them in the refrigerator for about 2 hours. Put them on ice if you can but keeping them as COLD as possible is the key to making crunchy pickles.
See my sandwich pickles and the sliced ones in the back? I salted them and kept them COLD in the refrigerator for 2 hours before pickling them and they are crrrunchy!
Yellow vs. Green Pickles
The canned cukes turn yellow when you heat them. But they stay crunchy if you salt them in cold refrigerator prior to canning them. If you want green pickles, don't use hot brine or can them. Use cooled brine straight into the jar but since they are not canned, you can't keep them as long.
Also when you heat the brine and can the veggies, probiotics will be killed and they won't be fermented. So no probiotics and no enzymes will still be alive. The down side of canned pickles. 🙁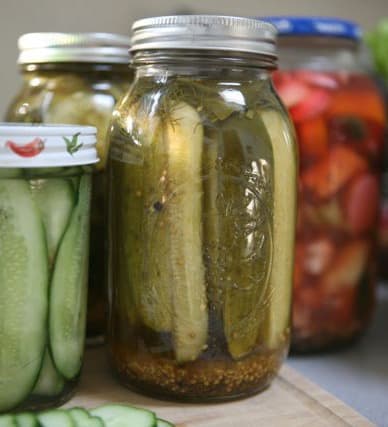 You can find various recipes for pickling cucumbers but be creative and make up your own recipes like I did. You can adjust the amounts of each herb and sugar. There is no written rule about pickling spices. Gosh, you can even use Pickling Spice that comes in a bottle. I didn't use it but it's totally allowed if you don't have individual spices for pickling.
The beauty of pickling is that you can reuse the pickle juice for the next batch! That's right! So if you have pickle juice that you love, save it and add some sliced up veggies to it! About one day later, you've got pickles! How awesome is that?
Equipment needed:
You don't need fancy equipment or jars if you are just making them for quick eating. You can re-use any glass jars or you can buy these Ball's Mason jars for quick pickles. Or these for canning.
So, what are you going to pickle?
Disclaimer: there are affiliate links to Amazon just in case you want to buy them. Your cost is the same. I make a few pennies for me to make more pickles!
Recipe
Did you try this recipe? We would love your feedback!
Click on the stars on the recipe card below.
How to pickle your summer harvest
Pickling vegetables is easy and you don't need special equipment or complicated ingredients.
Ingredients
Vegetables
5-7

med

cucumbers or any vegetables you want to pickle. I like English or Kirby cukes.

1-2

Tablespoon

coarse sea salt or kosher salt
Brine:
1

cup

organic unpasteurized Apple Cider Vinegar.

Half-sours should be ½ Cup

1

cup

water

1

tablespoon

raw organic sugar

Honey or sugar substitute does not work. Use cane sugar to feed the good bacteria to ferment.

½

teaspoon

Mustard Seeds

½

teaspoon

Celery Seeds

⅛

teaspoon

Ground Turmeric

1 ½

C

fresh dill fronds - about one bunch

3

cloves

garlic

minced

1

teaspoon

Semi-crushed black peppercorns
Instructions
Pick cucumbers that are firm and green. Don't use over ripen or yellowing cukes. Skinnier they are, there will be fewer seeds and it's a better choice for pickling.

Wash cucumbers and cut the ends.

Slice them horizontally, in about ⅛" thick. Sprinkle salt liberally and set them in a colander over a bowl.

You can also slice them vertically for sandwiches too. How do you know when the cukes are salty enough and they are done? Taste one. If it's salty enough for you, then, it's done. No rocket science there.

Refrigerate for about 2 hours. If you are cutting the cukes vertically in spears, you'll have to refrigerate a bit longer. THIS is my SECRET to crunchy pickles.
BRINE
Meanwhile, to make the brine, add all the ingredients, except dill.

At this point, if you want quick pickles, you can boil the brine in a quart size pot, stirring to dissolve sugar. But if you want pickles for its probiotic properties and can wait a bit before eating them, do not boil the brine. Boiling the brine will kill all the good bacteria for fermentation. If not boiling, combine all the ingredients and set aside.

Take the cukes out of the refrigerator and rinse. Layer them and dill fronds in one or more jars. Pour hot brine mixture into the jar, completely covering the cukes. Let it cool and seal the jar. Refrigerate up to one week....if it lasts that long.

If canning, you can can after you boil the brine. Cukes will turn yellow when canning. But they will stay crunchy if you salt them and refrigerate them.
Nutrition
Calories:
48
kcal
|
Carbohydrates:
10
g
|
Protein:
1
g
|
Sodium:
884
mg
|
Potassium:
374
mg
|
Fiber:
1
g
|
Sugar:
4
g
|
Vitamin A:
875
IU
|
Vitamin C:
13.1
mg
|
Calcium:
57
mg
|
Iron:
1.3
mg
Disclosure
This recipe may contain links that pay commission to this site when you purchase from the links, at no extra cost to you. Full disclosure!