These gluten free garlic and herb cheese biscuit make great breakfast for on-the-go when you don't have time for a sit down meal. They are crusty on the outside and soft and cheesy in the inside.
I love LOVE hot crusty cheesy biscuits. But since we're gluten free most of the time, I don't bake them anymore. So when I saw a recipe for "Gluten Free Cheddar Drop Biscuits" by Recipes to Nourish, I had to make them. But of course, I had to put my own spin on it and add bacon and my favorite herb, Tarragon.
Wait until you make these hot & crusty on the outside, cheesy inside biscuits. They are so easy to make and they are gluten free! With crispy bacon bits and my favorite herb, Tarragon, and lots of garlic, there is nothing about these biscuits you won't like. I used almond milk but you can use whole milk. I used arrowroot flour with this batch because that's what I had but you can use tapioca or sweet rice flour. I think I'll try sweet rice flour next time. These turned out a bit harder on the outside than I'd like. That's what's fun about cooking. You adjust the ingredients a little each time until you achieve the result you like!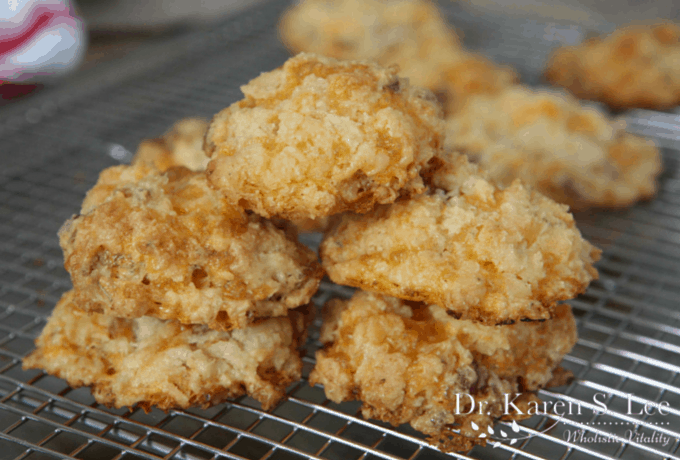 And these are so easy! Combine put all the ingredients in a large bowl, mix them loosely. Scoop up a serving spoon sized dollop on a parchment paper lined cookie sheet and bake! It only takes about 15 minutes! Easy peasy!
Make extra batches and freeze them in an air-tight container. They reheat very well. Just warm them up before eating. You want them hot, crusty and cheesy.
Gluten Free Garlic & Herb Cheese Biscuit
You'll need:
Organic White Rice Flour (I use this. Amazon Affiliate Link) You can use brown rice flour too. I had this so that's what I used.
Unbleached parchment paper to line (I use this – Amazon Affiliate Link)
Cookie Sheet and Cooling Rack (I love this because it's two in one! Amazon Affiliate Link) After you bake the biscuits, put them on the rack over the cookie sheet!
Aluminum Free Gluten Free Baking Powder (I use this Amazon Affiliate Link)
Did you try this recipe? We would love your feedback!
Click on the stars on the recipe card below.
Gluten Free Garlic & Herb Cheese Biscuit
Gluten-Free Garlic Herb Cheese Biscuit is savory and cheesy.
Ingredients
1

c

rice flour

1

c

arrowroot flour

2

tsp

aluminum free baking powder

2

tsp

Tarragon

½

tsp

sea salt

½

tsp

garlic powder

6

tbsp

cold grassfed pastured butter

cut into tablespoons

1

c

cheddar cheese

grated

1

c

chopped cooked bacon

1

c

almond milk or organic/raw/grass-fed whole milk

Melted Garlic Butter - melt 4 tbsp of butter and 3 cloves of minced garlic
Instructions
Preheat oven to 425 degrees F.

Line a baking sheet with unbleached parchment paper.

In a large mixing bowl, combine the dry ingredients.

Add cold butter.

Mix the butter into the flour mixture with hands but don't overmix otherwise, biscuits will be hard.

Add grated cheese.

Add milk and stir until incorporated and it becomes a sticky dough. Do not over mix.

Drop spoonfuls of dough on parchment paper lined baking sheet 2 inches apart.

Bake for 15 minutes or until edges become light golden brown.

As soon as biscuits are done baking, use a basting brush to coat the tops of the biscuits with the melted garlic butter.

Serve immediately.
Disclosure
This recipe may contain links that pay commission to this site when you purchase from the links, at no extra cost to you. Full disclosure!
Note: Whenever I use ingredients, I always use organic, grass-fed and pastured meats and butter. I don't always state them because I feel like I'm being redundant but I hope you know that organic is what I always recommend even if I don't state it in the recipes.