Do you eat rice? Drink rice milk? Eat energy bars? Then, you'll want to read this guest post by a mom of 4 boys from "Green Talk", Anna Hackman. She is an attorney and a LEED accredited professional who built an eco-friendly Energy Star house. She is always in the "front lines", protecting her family, from all kinds of environmental assaults. So imagine how she felt when she found out that there is arsenic in rice and rice products? What she found out in her research was alarming. Read on. 
- - - - -
Get Arsenic Out Of Rice! Now!
Recently the use of organic brown rice syrup in health food came under scrutiny when a 2012 Dartmouth study revealed disturbing levels of arsenic in tested toddler formulas, cereal bars, and energy products. In the case of toddler formula, the total arsenic level was six times the amount allowed by the EPA for arsenic in water. This standard is based on adults, not children.
Sadly, this news was not a new revelation. It was just another disturbing study pointing to the rice and arsenic connection in which US and EU guidelines have not been established. As I started to prepare an article for my website regarding the Dartmouth study, something just didn't seem right. Call it mother's intuition.
With the help of Professors Duxbury of Cornell University and Merharg, of Scotland University, I was able to put the pieces together.
How does arsenic get into the rice?
Arsenic is naturally occurring in the soil. However, we have increased the amount of inorganic arsenic in our soil due to  pesticides use, water contamination, CCA wood preservatives, sewage sludge, and air pollution from burning fossil fuels and metal smelting. The EPA has labeled inorganic arsenic as a known carcinogen.
Since rice is grown in water, it sucks up arsenic in the soil. Eighty percent of rice grown in the United States comes from the South where arsenic pesticides were used. Arsenic remains in the soil. The balance of rice grown in the United States comes from California, where arsenic is more prevalent due to its geochemical profile
Since organic brown rice syrup is a concentrated form of rice, it will naturally contain more arsenic. Now I understood the puzzle.
But I was outraged.
Five years ago, a study done in 2007 by Dr. Meharg's team revealed  that infants due to their low body weight, people who are on a gluten free diet and ethnic groups who ate rice as a staple could be at risk. And here is when I cringed. The November 2001 issue of Pediatrics reports that an estimated 15% of autistic children are on gluten free diets.
In 2009, the UK Food Safety Standards warned parent as a precaution to stop giving children ages 1 to 4.5 years old rice drinks due to an arsenic/rice milk study. Two years later, another Dartmouth study revealed that arsenic in pregnant women's urine increased with rice consumption. And now, another Dartmouth study tells us that arsenic is in brown rice syrup in products that we consume daily, like energy bars, cereal bars, and infant formula.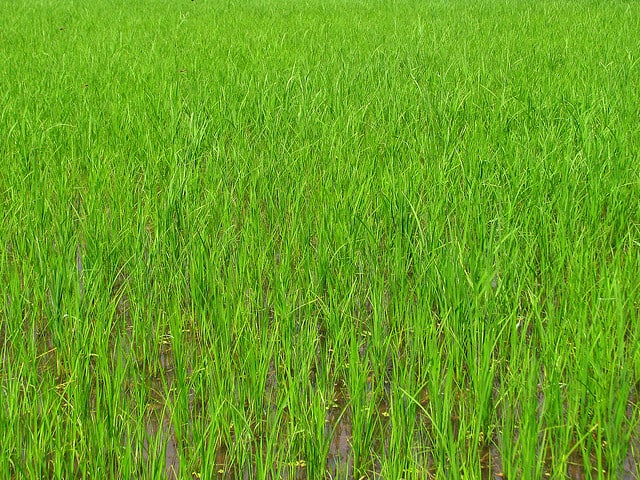 The effects of arsenic in humans
For five years or possibly more, there hasn't been any US or European Union guidelines on the amount of arsenic allowable in rice. Short term health consequences for children exposed to low levels of arsenic are unknown. Long term exposure to arsenic in drinking water includes high risk of lung and bladder cancer and increase risk to skin, liver, and kidney cancer. In addition, developmental defects, stillbirth, and spontaneous abortion as well as heart attacks, strokes, diabetes mellitus, and high blood pressure have been associated with long term arsenic exposure.
How can we avoid arsenic in rice?
Both Professors told me that this issue was solvable. The rice farmers could let their fields dry out more and flood them less. This change in farming method would decrease the arsenic uptake. Alternatively, Dr. Meharg suggested "selectively breeding arsenic-poor rice varieties." He further explained this is not to be confused with creating genetically modified seeds.
For more detailed information, read this article on the Dartmouth and other studies on Green Talk.
- - -
Anna's article brought many outraged readers whose children tested high levels of arsenic and shared their stories in the comments. They found above normal levels of inorganic arsenic in their urine, just from drinking rice milk, such as Rice Dream, a popular brand that I, myself drank very often prior to this report. I stopped buying rice milk as a result but imagine how my families are affected by this horrible news. We eat rice more often than you probably eat pasta. It's a staple food. It's one form of carbs that we eat more than any other carbs. And while we buy organic brown rice from California, it still makes me worried since, as the article reported, arsenic has been found in CA too. I am going to contact the rice company the next time we have to buy rice.
But you should also be aware, especially if you are on a gluten-free diet or drink rice milk due to dairy or soy sensitivity.
Contact the companies about the arsenic levels if you are planning to buy rice milk or energy or cereal bars or infant formula.
Food Safety News recently reported that Reps. Frank Pallone (D-NJ) and Rosa DeLauro (D-CT) are urging the U.S. Food and Drug Administration to respond to reports of arsenic in juices and other foods. Pallone held a press conference at a preschool in New Brunswick, NJ to gain support for his bill, "Arsenic Prevention and Protection from Lead Exposure in Juice Act of 2012'' otherwise known as the "APPLE Juice Act of 2012." The legislation, which DeLauro has cosponsored, would require that FDA establish lead and arsenic standards for fruit juices within two years.
"There are no regulations for this toxin in other food products, including juices or infant formula, though China has a standard for arsenic in food," in its letter to FDA Commissioner Margaret Hamburg.
In their letter, Pallone and DeLauro tout their bill, which targets apple juice, and ask FDA to move on a wider variety of FDA-regulated products, including juices and infant formula, in a timely manner."
UPDATE** [September 19, 2012] - ABC News reported today that Consumer Reports finds Arsenic levels in rice "worrisome" and that daily consumption of rice can raise arsenic level in your body 44 percent! Read the full article here.
{CC Image of Rice by PaperFacets and Rice Paddy by McKaySavage via Flickr]