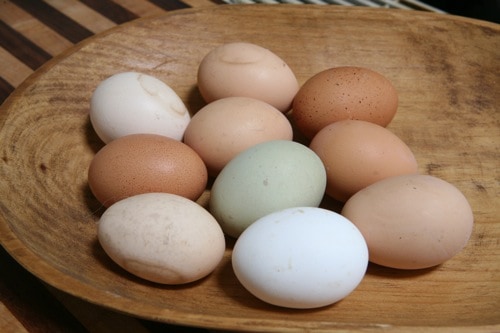 My daughter has been sick with a nasty cold since before Christmas. She's been hacking away trying to cough up phlegm stuck in the middle of her chest, lying on the couch or in bed, just feeling miserable, and fighting occasional fevers and even hives from allergy to the cough medicine - nice, eh? There was nothing her pediatrician can give her for the cold and the only thing that helped her were home remedies, spinal adjustments, and acupuncture, all of which I've been doing religiously. She's finally better today.
But this post is not about her nasty cold.
It's about eczema.
Don't be confused. I'm getting to it. However, this post is little long but very important so bear with me.
What about eczema?
Since DD's appetite has been shot to hell, all she has been able to tolerate were rice porridge, soups, plain lukewarm water (not so much OJ since the acid bothered her stomach and her taste buds), and boiled ginger/cinnamon with honey. When she broke out in hives, due to an allergic reaction to the cough medicine, I checked her body to see how widespread it was. In doing so, I discovered something totally unexpected. Her eczema disappeared!. I mean, her red, scaly, inflamed and dry spots have significantly diminished to almost normal. I was shocked!
You see, both of my kids have suffered from severe eczema since they were little. I say "severe" because of their skin - behind their knees, crooks of the elbows, wrists, neck, and in DD's case, her lower back - are always dry and some spots are raw and red. Sweating makes it worse and whenever they come back from fencing practices or tournaments, their skin is ten times worse. The layers of fencing clothes and gear don't let the body heat escape and allow the skin to breathe. The trapped hot moist heat exacerbates the condition.
But the cold and dry Northeast winter doesn't help either since it dries out the skin too much. There needs to be a delicate balance. Their scalp gets really dry and scaly at times that I even washed my DD's hair with apple cider vinegar to get rid of the bacteria that caused it. It totally worked and now their scalp is better.
Oh, for your information, eczema can be classified under so many different skin ailments, most commonly, Contact Dermatitis, Psoriasis, Atopic Dermatitis, and Seborrheic Dermatitis. There are so many types of skin ailments that are related to eczema. There is no cure for eczema but I have tried almost everything to reduce their symptoms with little success until I accidentally discovered the secret to the eczema-free skin three days ago.
But before I tell you what  I discovered, a little background on their history because it will make more sense later.
Allergy History
My DS,  seventeen-year-old now, was tested mildly positive – meaning he tested 2 out of 5 on the RAST (radio-allergo-sorbent-test) - to wheat, dairy, eggs, dust and cat dander when he was three years old. His main symptom was non-stop productive coughing until he threw up phlegm. As result, I put him on an elimination diet for about a year and slowly re-introduced the allergens back to his diet. He outgrew most of them and he now eats anything he wants but he still has his 'likes' and 'dislikes'. In fact, the elimination diet made him a picky eater so now, I don't stop him from eating when he wants to eat anything. I'm just glad he eats! And since he needs his protein and carbohydrates for fencing, I rarely stop him from consuming foods, especially since they are usually whole foods that I cook at home anyway. But I can't stop him from eating occasional "Subway" sandwiches, pizza, hot dogs and hamburgers when he goes out. He also loves Clementine oranges in the winter and watermelons in the summer. He's a carnivore with a voracious appetite for a good steak meal and never turns down a lobster dinner. He recently started eating vanilla ice cream and an occasional slice of a birthday cake without frosting. He still hates Fettuccini Alfredo and anything with creamy cheeses and milk containing sauces. All in all, his diet is still considered 'great' compared to most American teenagers. And he doesn't cough anymore due to food allergies.
My DD is slightly different as I didn't test her for allergies and made her go through the elimination diet when she was young. But we assumed, since she carried the same genes as DS, she probably had similar allergies too. We were watching what we ate anyway so frankly, I wasn't frenetic about eliminating foods because I didn't want her to become a picky eater too. So, while Andrew just started eating a small sliver of unfrosted cake, DD had no problems eating cake, frosting and all, since she was young. She loves milk with her oatmeal but DS does not care for it. DD loves milk chocolate but DS does not eat chocolate. She had mild cases of eczema but no frank allergic symptoms, like coughing. But her eczema got worse as she got older and so did DS's.
How we treated eczematous symptom in the past
DS's case is more severe than DD's and as a result, he'd get secondary skin infections due to eczema, like Staph and Herpes (as in cold sores on lips) infections, on his face. Their pediatrician and dermatologist would just treat the infections and prescribe steroidal creams and would tell me to use Cetaphil lotion to treat eczematous symptoms but never said that eczema was related to allergies. I even urged their dermatologist to do patch tests on them to rule out Contact Dermatitis and was relieved when the tests came out negative. But to address their eczema, I use all natural plant-based laundry detergents, goat milk soaps, neem soaps, calendula soaps, organic herbal shampoos and neem & calendula creams and lotions. We now use shampoo bar from Herban Lifestyle and it is by far the best non-itching shampoo for their scalp. But they are still not enough to reduce their symptoms. (I actually bought all these soaps and creams from these sellers on Etsy and they are great! And I'm not making a penny from this endorsement. I just love them.)
After researching and even taking them to an acupuncturist, I learned that it's the "heat" in their system that causes the inflammation in their skin. In addition, stress sweats from fencing, not enough rest and sleep, but most importantly, the foods that they are eating aggravate eczema. Unfortunately, there is not one thing on that list that I can change, except for food. But since we live such busy lives, and their bodies require certain nutritional needs at this age, it was hard to do a total purge. I tried so many times to implement the strict "eczema diet" but it was almost impossible to stick to it. But more importantly, they weren't convinced that foods could change their skin that dramatically enough for them to go through the torturous elimination diet. They would quit eating bread and red meat for a week but then, they'd come back from fencing all red and inflamed that they would get discouraged again. And quitting fencing was out of the question.
A Revelation!
Fast forward 3 days ago.....
As I said in the beginning of the post, DD was so sick with the cold but what did we discover unexpectedly? Her eczematous skin was baby-skin-smooth!! Suddenly, I had an epiphany! You see, while she was sick, she was unable to eat her usual foods - the only thing she tolerated was rice and water. She did not eat any dairy, wheat, eggs, red meat, sugar, or even her usual fruits – all the foods that have been known to trigger eczema. I was excited about this discovery and couldn't wait to share it with the boys. And seeing her smooth skin with his own eyes, even my feisty teenager was excited ....until he realized what this means. He almost cried when he realized he's going to "starve".
How we are planning to treat eczema from now on.
Eczema and Food Allergy
But DS was willing to try the "diet" after seeing it with his own eyes. So, I told him to cut out wheat, dairy, eggs, wheat, sugar and red meat that he was devouring during this vacation. I also told him to stop drinking OJ and eating Clementine oranges that he was consuming in boxes to prevent catching her cold. The next morning, we couldn't believe our eyes again. Their skin was still so smooth and not inflamed! We were flabbergasted. Intellectually, I knew foods affected eczema but I wasn't convinced that my kids would be affected this seriously by them. I mean, they don't live on that stuff. I take pride in the fact that I cook whole foods – not processed foods - in my house, so I thought their diet was pretty healthy. But I was wrong. They might be healthy for non-eczematous people but not for my kids with eczema. We eat pasta – yes, with homemade sauces with fresh ingredients but pasta is all wheat, even if they are organic. We love eggs – free range from organic grain fed chickens from local farms. We drink organic fresh un-homogenized 2% milk from the local dairy. We eat grass fed beef. We also make sure we buy fresh seasonal organic fruits. But if you are sensitive or allergic to any of these ingredients, fresh or organic will not make a difference. Your system will react, violently.
So after seeing the dramatic change in their skin after just one day of eliminating them, I wrote up a list of foods that we are going to eliminate for at least two months. We are eliminating the foods that he was originally allergic to: 
wheat
eggs
dairy
soy (not listed above)
In addition, we added foods that are specifically 'no-no' for eczema:
red meat
sugar
shell fish
citrus fruits
The last four are inflammatory foods that my kids might not be allergic to but may still be the culprits for making their system inflamed. Other people might have a different list of foods that might trigger their eczema, including soy, peanuts, tree nuts, and even rice or corn. But I am starting with this list since he was tested positive in the past for these foods.
Anyway, they will also be getting plenty of supplements, especially, Vit. C, Vit D., Vit E, and natural anti-inflammatory oils like Omega-3 oil. And drinking at least 8 glasses of water is mandatory and cutting out all other beverages. If we were to have the typical Western diet, this elimination will be almost impossible. So we will be adopting an all-Asian diet with plenty of brown rice, fish, seaweed, vegetables and green tea. And looks like I'll be packing their lunches too. Oh, joy.
I know it's only been a few days and it's too soon to get excited. But for now, we are going to stick with this diet. I also know once they start the fencing season, it might flare up but I am very optimistic about their prognosis. I found so many websites and blogs that have eczema related information but most of them are just for symptomatic treatments and not getting to the cause of it. Only alternative therapy sites mention food allergy as a possible cause, a factor which I think are grossly overlooked by mainstream therapies. I also found some interesting articles on how making our internal system more alkaline can help eczema too. I have to look into that further.
In regard to avoiding certain foods, they are as tricky as finding out that allergy to foods can cause eczema. I already knew "whey" and "casein" are derived from dairy but I had no clue that wheat is disguised in so many ingredients in foods. Check here for information on hidden wheat and dairy ingredients in your foods.
Do you suffer from dry skin or eczema or know someone who suffers from eczema? I would love to find out what you or they have done to treat eczema.
Oh, if you think this was helpful, please forward it to anyone you think might be helped by the article.
2.5.2014 Update - Read the update here
4.4.2012 Update : Check out my review on CVSkinlab's magical Rescue and Relief Spray for Eczema!