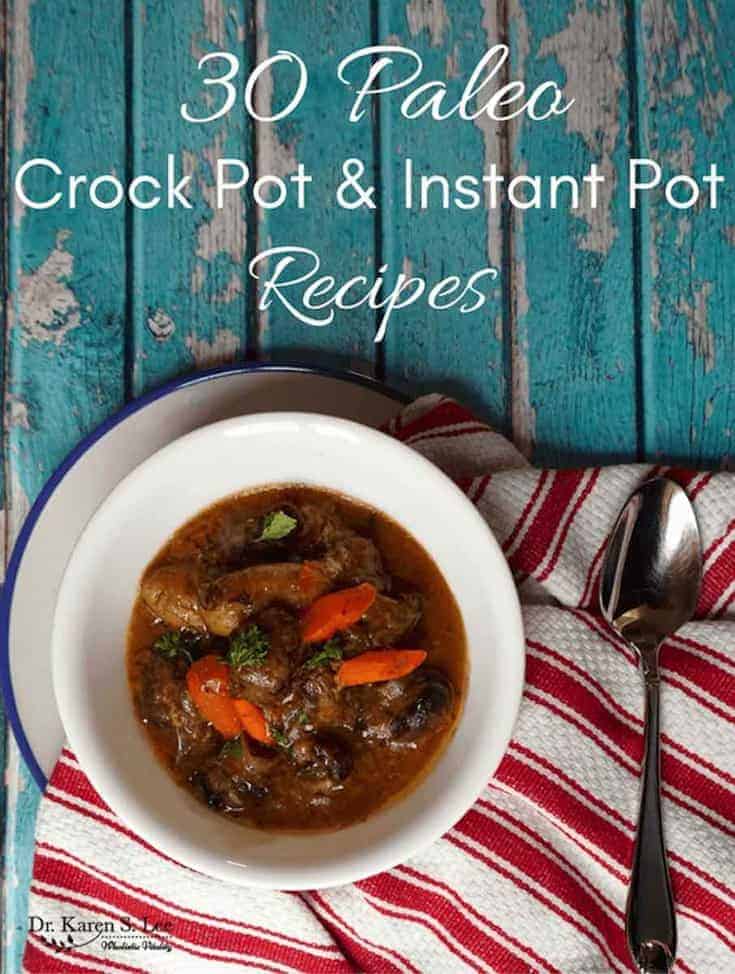 As the weather gets colder, our natural instincts are to hibernate in the house under a warm blanket, a hot cup of cider, a good book, and maybe some soft music in the background. And when you struggle to warm-up, the last thing on your mind could be cooking. Luckily, there are kitchen appliances like the oven that cooks while it warms your house or a slow cooker and Instant Pot that cook without your active participation. Here are 30 Paleo Slow Cooker and Instant Pot® Recipes that allow you to "set it and forget it" and still have delicious food ready for dinner while you sit by the fireplace, getting warm. You can also check all my Instant Pot Recipes for more recipes.
On a side note, if you own a relatively new Crock Pot, it should be lead free but if it's old, you should call the company to check to see if there is lead in the glaze. I used to have a Crock Pot until I bought an Instant Pot®.
I love my Instant Pot because not only does it have all the power of a pressure cooker, it also has a slow cooker setting as well. So if you have an Instant Pot®, you can use any of these recipes in the Instant Pot® too.
30 Paleo Slow Cooker and Instant Pot® Recipes
1.] Instant Pot Easy Chana Masala [Ministry of Curry]
2.]  Crock Pot Turkey Bolognese Sauce [Cook Eat Paleo]
3.] Sticky Slow Cooker Chicken Wings with Pineapple 5 Spice Sauce [Food Faith Fitness]
4.] Instant Pot Aloo Gobhi [Ministry of Curry]
5.] Slow Cooker Beef Shank Soup [A Real Food Journey]
6.] Pressure Cooker Honey Sesame Chicken [Pressure Cooking Today]
7.] Homemade Bone Broth in Crock Pot [Dr. Karen Lee]
8.] Instant Pot Jambalaya [Pressure Cook Recipes]
9.] Crock-Pot Mexican Meatballs with Fire-Roasted Chipotle Sauce [Rubies and Radishes]
10.] Paleo Slow Cooker Meatballs in Marinara Sauce [Paleo Running Momma]
11.] Slow Cooker Apple Cider Pulled Pork [The Natural Nurturer]
12.] Crockpot Rosemary Chicken with Butternut Squash [Get Inspired Everyday]
13.] Tropical Slow Cooker Pork Roast [Pure and Simple Nourishment]
14.] Crockpot Carne Asada Loaded Fries [Paleo OMG]
15.] Crock Pot Pork Ribs with Killer Barbecue Sauce [Beauty and the Foodie]
16.] Perfect Paleo Pot Roast [Dr. Karen Lee]
17.] Slow Cooker Beef Brisket with Tomatoes and Onions [Anya's Eats]
18.] Stuffed Bell Peppers [GAPS Diet Journey]
19.] Asian Marinated Crockpot Beef Spareribs [On Diet and Health]
20.] Instant Pot Corned Beef [Recipes to Nourish]
21.] Slow Cooker Beef Bourguignon with Garlic Herb Sweet Potato Mash [Foraged Dish]
22.] Easiest (and Most Delicious) Crock Pot Taco Meat Ever [Delicious Obsessions]
23.] Slow Cooker Venison Chili [Flabs to Fitness]
24.] Slow Cooker Chicken Chile Verde [The Real Food RD's]
25.] Slow Cooker Chocolate Chicken Mole [A Girl Worth Saving]
26.] Easy Creamy Crock-Pot Chicken Tikka Masala [The Iron You]
27.] Instant Pot Bolognese [Damn Delicious]
28.] Slow Cooker Lemon Rosemary Chicken [One Lovely Life]
29.] Slow Cooker Garlic Lamb Shanks with Lemon Dressing [Comfort Bites]
30.] Crock Pot Rosemary Carrot Parsnip Mash [Cotter Crunch]