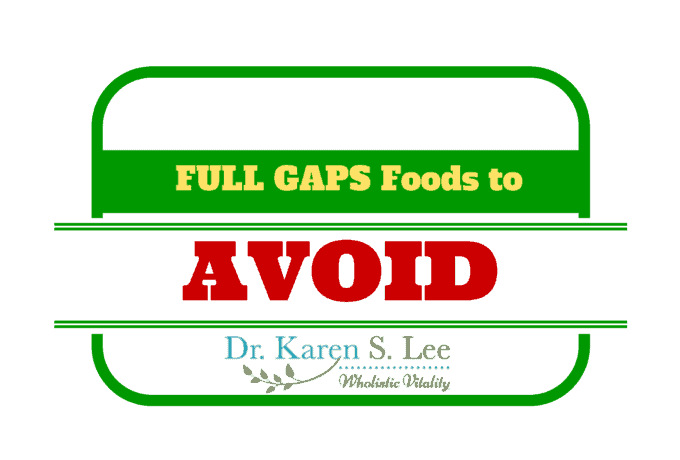 Here is a list of foods to AVOID on FULL GAPS diet.
Agar-agar
Agave sweetener
Algae
Aloe Vera
Amaranth
Apple juice
Arrowroot
Artificial Sweeteners (Equal, Splenda, Sweet N Low)
Astragalus
Baked beans
Baker's yeast
Baking powder, raising agents of all kind
Baking soda (except in certain situations)
Barley
Bean, flour or sprouts
Bee pollen
Beer
Bitter Gourd
Black beans
Bologna
Bouillon cubes or granules
Brandy
Buckwheat
Bulgur
Burdock root
Butter beans
Cannellini beans
Canned fruit or vegetables
Carob
Carrageenan
Cellulose gum
Cereals, any breakfast cereals
Cheese – processed or cheese spreads including Chevre, Cottage or Cream Cheese, Feta, Gjetost, Gruyere, Mozzarella, Neufchatel, Primost, Ricotta.
Chestnut flour
Chewing gum
Chick peas
Chicory root
Chocolate
Coconut milk, canned with additives
Cocoa powder
Coffee, instant or coffee substitutes
Cooking oils – all liquid, including canola
Cornstarch
Corn syrup
Cottonseed
Couscous
Cream
Cream of Tartar
Dextrose
Fava beans
Fish, preserved, smoked, salted, breaded or canned with sauces
Flour, made out of grains
FOS (fructooligosaccharides)
Fruit, canned or preserved
Garbanzo beans
Grains, all kinds
Ham
Hot dogs
Ice-cream, commercial
Jams or jellies
Jerusalem artichoke
Ketchup, commercially available
Lactose
Liqueurs or cordials
Maple Syrup
Margarines or butter replacements
Meats, processed, preserved, smoked or salted
Millet
Milk, buttermilk or dried from any animal, soy, or rice
Molasses
Mung beans
Nutra-sweet (aspartame)
Nuts, any kind, salted, roasted or coated
Okra
Oats
Parsnips
Pasta, of any kind
Pectin
Potatoes, white or sweet
Quinoa
Rice
Rye
Saccharin
Sago
Sausages, commercially available
Seaweed
Semolina
Sherry
Soda or soft drinks
Sour cream, commercial
Soy
Spelt
Starch
Sugar or sucrose, of any kind
Sweet potatoes
Tapioca
Tea, instant
Triticale
Vegetables, canned or preserved (frozen is ok as long as there are no additives)
Wheat
Wheat germ
Whey, powder or liquid (homemade is ok)
Yams
Yogurt, commercial
Click on the image below to PRINT this list.

Here is a list of APPROVED foods on the GAPS Diet.