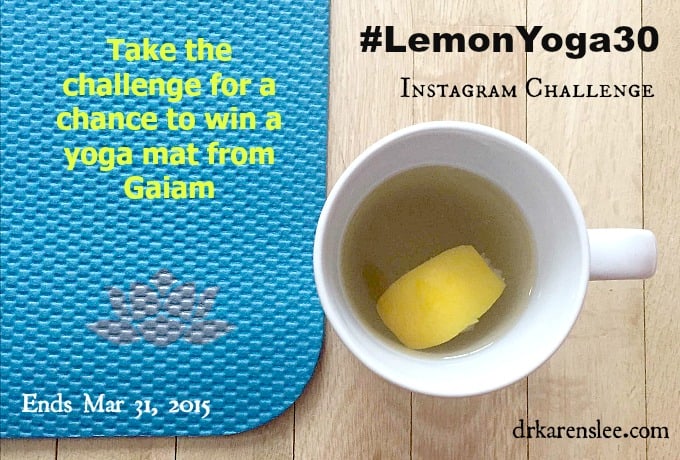 I've been doing yoga on and off for about a year. I put on my comfortable pants and t-shirt, roll out the yoga mat, and get in the 'zone' for about 30 minutes before the day starts. Most of the time. Ok, it's been about once a week lately but I do start the day with at least some stretches and meditation on most mornings. Otherwise, I'm "fuzzy" all day.
I don't think exercise ritual has to be anything fancy – you just have to 'do it' – whatever makes you happy.
But I wanted to get back into yoga routine. So starting this week, to help me and you, I am starting a challenge – #lemonyoga30 for a month. And I want you to join me on this challenge because I know you feel the itch too  but you just need that little push to get you going. If you already do yoga, you can follow along, share the challenge with a friend and cheer us!
Here is the deal.
Click to this to tweet!
Yoga and Lemon Tea Instagram Challenge – #lemonyoga30
First thing in the morning, before drinking coffee or eating breakfast, drink lemon tea. Here are reasons why.
Squeeze 1/4 of a whole lemon and add the whole thing, with the peel and all, to about 12 oz of hot water. Drink slowly.
Do 30 minutes of yoga.
Follow me on Instagram – @drkarenslee
Take a picture of your morning yoga and lemon tea routine and upload the picture to your Instagram every day until March 31, 2015! Yes, daily!
Use the hashtag #lemonyoga30 on your pictures.
Tag a friend to join the challenge.
And tag me – @drkarenslee – to your photo so I can follow.
The challenge ends on March 31, 2015.
On April 1, 2015, I will pick the winner with the most pictures with the hashtag #lemonyoga30 to send a Gaiam yoga mat.
Here is my Instagram account. Make sure to follow my account so you can tag me and I can see your pic!
Here is where all the photos with #lemonyoga30 will be.
Are we set? Awesome. Let's see what you got!