Are you struggling to put healthy meals on the table every night?
Are you always in a rush to get home to cook?
Don't worry! With this amazing electric pressure cooker that's SAFE, FAST, and EASY to operate, your dinner worries are over.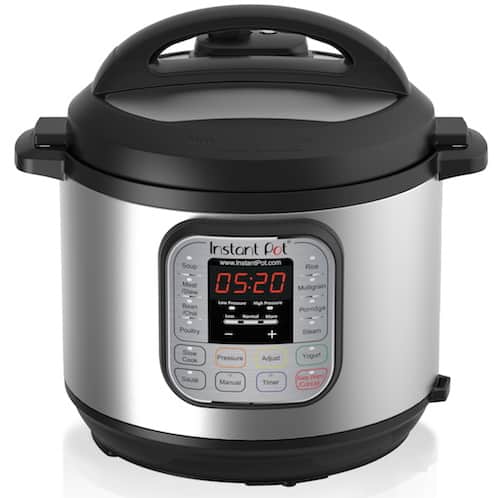 But to make your life even easier, you need this Easy Paleo Instant Pot Recipes!
 (regularly $14.99)
Over 43 Delicious Recipes
100% Real Food Recipes
Beautiful Color Photos
Full Recipe Index
Scratch recipes without junk or fillers
Whole ingredients
What's The Easy Paleo Instant Pot Recipes?
The Easy Paleo Instant Pot Recipes is a collection of popular family recipes, modified for Paleo lifestyle pressure cooker meals. This recipe book is great for anyone who wants to create delicious, nutritious meals quickly and easily. Even if you haven't begun a full transition to Paleo, you can still take pride in cooking healthy meals from scratch without extra refined sugar and processed ingredients.
A pressure cooker is a busy family's secret weapon. It makes meals quick and easy and some recipes can be done in less than half the time as the stove top or the oven. Cooking in a pressure cooker is healthier because it seals in the nutrients. It's also eco-friendly because it cooks so much faster than stove top or the oven. While the recipes are written based on Instant Pot's setting, they can be modified very easily to be used for any electric pressure cooker, and even stove top model pressure cooker.
Cook fast and eat slow!
Some of the recipes include:
Breakfasts: Eggs Five Ways, Rice Porridge, Steamed Eggs, Herbed Eggs with Salmon
Soups: Bone Broth Basics, Fish Stock, Chicken Soup, Clam Chowder
Plants: Citrus Salad with Beets and Candied Walnuts, Stuffed Artichokes
Meat Dishes: Pot Roast, Beef Stew Osso Buco, Korean Style Braised Short Ribs
Poultry: Everyday Chicken, Korean Spicy Chicken, Chicken Garam Masala
Seafood: Cioppino, Penne with Mussels Marinara, Seafood Paella
Sweets: Rice Pudding, Pine Nuts Honey Mousse
And more recipes, resources, cooking time charts and much more!
 (Regularly $14.99)
Here are some of the dishes in the book.
(Regularly $14.99)
So download your copy today!