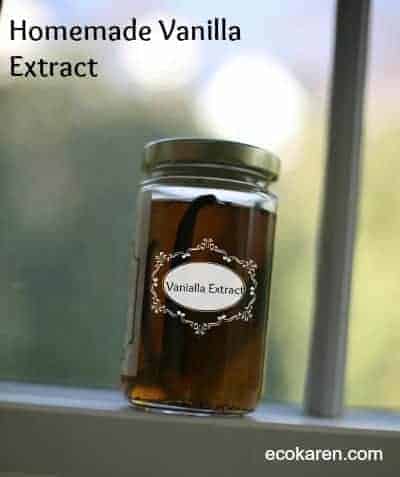 My daughter was a baking phenom last holiday season.
She made Meringue Cookies, Chocolate Cake, Cupcakes, Breads, and Sugar-Free Cookies for a family friend. All by herself.
She made me run to the store to restock Vanilla Extract every week! And do you know how much they cost??? I never really looked at the price tag before because I'd go through maybe one little bottle a year.
But now that she is in the kitchen getting awfully friendly with our Kitchen Aid mixer practically every week, I'm noticing how many bottles of Vanilla Extract she's going through.
So I researched and found out that it's really easy to make vanilla extract and that it costs a fraction of what the store bought ones cost.
Homemade Vanilla Extract
*Note – plan ahead because it can take up to two months or more before you can use the extract.
Take two or three whole vanilla bean pods. I'm using organic beans from Frontier (Amazon Affiliate)because that's what I found at the local grocery store but you can find many organic brands online, like Amazon. When you take the beans out of the tube, they are sticky and very aromatic. That's how you know that it's fresh and not old. Old ones will be dried up and not aromatic.
Split the pods down the middle with a sharp knife and kinda loosen up the beans inside.
In one cup of vodka or rum (I made with both), add the Vanilla Beans and the pods in a glass jar with a tight lid.
Label the jar with the date and leave the jar in a cool dark place for about two months. Every two weeks or so, shake it gently. I placed it in a cupboard that I don't use that often, all the way in the back but I remembered to shake it every so often.
This is the color after about one month.

After about two months…

How simple is that? I made Vanilla Extract! If I used organic vodka, I'd have organic Vanilla Extract. And guess how much this would cost in a store? Exactly!
Guess what my DD made with the homemade vanilla extract tonight? Yum. She's out to kill me.