I am addicted to mason jars.
I wouldn't buy a case of new ones to make something out of them but I 'sometimes' buy foods based on the containers they come in and mason jarred foods definitely have become one of my favorite foods. Jams, jellies, and sauces in mason jars always taste better. Don't you think so?
And one of my all time favorite foods that come in mason jars is, you guessed it, caramels from The Caramel Jar. Remember the mouth watering caramels I reviewed last year? Yuummo!
Well, these caramels are to. die. for. but the jars are definitely right up there with robins egg blue bag from Tiffany's, as attractiveness goes. May be a tad bit better, since you can't eat the stuff that come in Tiffany's bags.
So when I finished my last caramel – what a horror! – I upcycled the jar to replace the old rusted soap dispenser.
I tweaked my old tutorial on upcycling a glass jar into a soap dispenser for converting a mason jar because the lid is thinner than a glass jar lid; no electric drill was necessary.
How to upcycle a mason jar into a soap dispenser
Gather a screw driver or an awl and pliers. I put a trivet underneath the lid so I don't scratch the counter. Remember this trivet I made from using a t-shirt yarn? Well, it worked extra hard in my kitchen! See the burnt marks?
Using the plier, pry the hole open bigger, little bit at a time, until the hole is big enough for the pump to fit in the hole.
Insert the pump and check the hole size to make sure it's not too big. Remember, you can always make the hole bigger if it's too small but not the other way around. As you can see, I could have made the hole a tad bit smaller. But no biggie. If I really want it smaller, I can always try another lid! That's the beauty of mason jars – the lids can be interchanged with other mason jars!
And voila! My new un-rusted cool soap dispenser!
If you want to just buy them, check out this great selection of mason jar soap dispensers from Etsy!
Here are more mason jar ideas…
From Emmalinebride by Our Labor of Love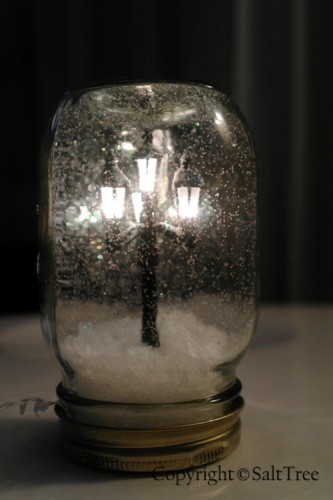 Miniature Light DIY by Salt Tree
Pincushion DIY by Martha Stewart
Glow in the dark firefly DIY by Curbly
It's going to be hot this weekend here in NY. I have popsicle recipes coming up so stay tuned!