Standard FTC Disclosure: This post contains affiliate links for products or services, including from Amazon.com. Read full disclosure here.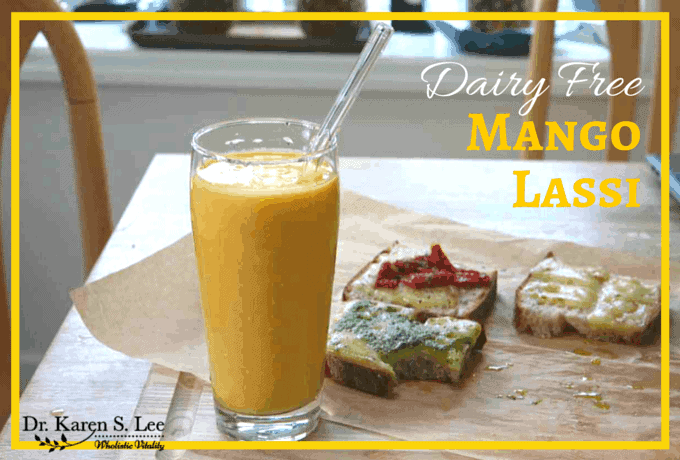 Mango is one of my favorite fruits. It's so versatile since it can be eaten plain (as the sweet syrupy juice drip down my arms while I'm going at it) or used in a recipe, like mango salsa. (Perfect for fish!)
Mango is very low in Saturated Fat, Cholesterol and Sodium. It is also a good source of Dietary Fiber and Vitamin B6, and a very good source of Vitamin A and Vitamin C. You just can't have too many since it's sweet and high in sugar (28g of carb in 1 Cup).*
But sometimes the fruit over ripens without my knowing. And then, I'm left with really soft, sweet, over-ripened mango that I'm "forced" make this yummy drink with!
Heaven in a glass. That's what Mango Lassi is. Perfect for hot days!
Since we don't do dairy, I made this version without yogurt, instead with just coconut milk. And without sounding disrespectful towards Indian cooking, I think it's so much better! Or maybe it might be classified as just plain mango smoothie.
Well, whatever you want to call it, make this for your family!
Note: you can leave out the yogurt since I think tangerine adds enough tanginess but yogurt has probiotics so I highly recommend adding it. If you are allergic to coconut, you can use rice milk. Nut milk might change the flavor too much.
Dairy Free Mango Lassi
Mango Lassi Recipe (Dairy Free)
Author:
http://www.drkarenslee.com
Ingredients
1 Cup Coconut Milk
½ Cup Coconut yogurt
2 Medium Over Ripened Mango -cut up
1 Tangerine - segmented without pith
1 Tbsp Honey
Small pinch of Cardamon Powder (optional)
½ Cup Ice
Instructions
Make sure mango is really ripened. The same goes for tangerine.
Add all the ingredients to a blender, like Vitamix, and blend until smooth.
If using immersion blender, add ice afterwards.
The taste is tangy as if it has yogurt in it but it's totally dairy free. Coconut milk thickens and makes the drink very smooth and refreshing.
Slurp with your glass straw and enjoy!
*Nutritional info from: nutritiondata