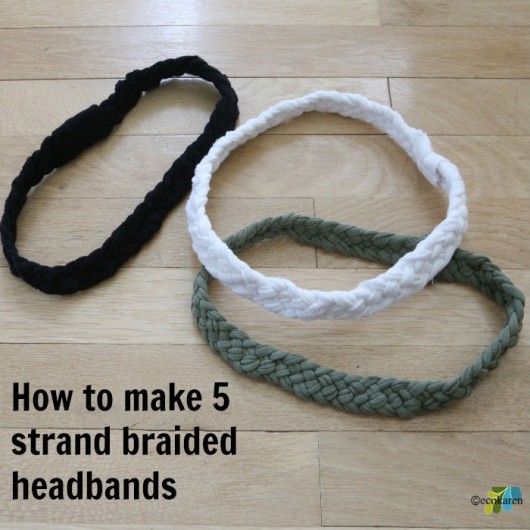 We skipped spring and went right into summer. That means headbands come out of my drawers and my hair gets off of my face. And since I've been working on my daughter's senior class quilt, I have a quite a pile of t-shirt hems. T-shirt yarn can be used for many projects but hems could be tricky. So I thought using up the hem for a headband would be perfect. It's thicker too.
If you don't want to use t-shirt hems, you can use any stretchy jersey material. Make sure to cut them across the grain and stretch them out before starting. If you want to use t-shirt yarn, you can do that too.
I braided this thin headband using just 3 strands but it's kinda, well, … a bit too thin.
So I searched on the web to see if I can make a wider one. And of course, one of my favorite sewing sites, "Make It Love it" popped up with this pretty 5 – strand braided headband tutorial.
But I have to admit, her tutorial kinda confused me because she used a same color strands in her puctures. So after trying her method for some time, I decided to post this, using different color strands to make it easier for you to see which strand goes where for braiding.
It's also my FIRST video tutorial. I was a bit too slow and detailed in explaining – I never know if I'm being too quick or too slow when I explain things – so forgive me if you 'get it' faster than how I am explaining in the video.
How to make a 5 strand braid headband with repurposed t-shirt hems
If your fabric yarn is too thin, you can double up.
So what do you think? Easy peasy, right? You can make a dozen in five minutes flat! Enough to last a whole summer!
NOTE: The information in this post is not intended to replace the advice of a doctor. Dr. Karen disclaims any liability for the decisions you make based on this information. Opinions and statements on this website have not been evaluated by the Food & Drug Administration. The information is for general consumer understanding and education, and should not be considered or used as a substitute for medical advice and it is not intended to diagnose, treat, cure or prevent any disease. I am not your doctor and you should consult with a qualified health care professional on any matter relating to their health and well being on one-on-one basis with thorough physical examination. Dr. Karen encourages you to make your own health care decisions based upon your research and in partnership with a qualified health care professional. Products Dr. Karen recommends and their properties have not been evaluated by the Food and Drug Administration. The products are not intended to diagnose, treat, cure or prevent any disease. If you are pregnant, nursing, taking medication, or have a medical condition, consult your physician before using the products. For more info, visit the Disclaimer page.